Virtual Discussion on Information Warfare
August 15 @ 10:00 am - 11:00 am EDT
August 15
@
10:00 am
–
11:00 am
EDT
Join BENS NY for a virtual discussion Tuesday, August 15th on Information Warfare with Brian Murphy, former Department of Homeland Security Acting Under Secretary for the Office of Intelligence and Analysis and currently Vice President for Strategic Operations at Logically.    
Information Warfare is defined as any action to deny, exploit, corrupt or destroy the enemy's information and its functions and to protect yourself against those actions and exploiting our own military information functions. Brian Murphy will discuss cognitive disinformation, how an enemy might use it strategically to weaken an opponent and tactically to prepare the battlefield, and he will provide real-life examples of how it is being used geopolitically around the world today.  
Brian Murphy served as both the Principal and Acting Under Security for Intelligence for the Department of Homeland Security (2018 to 2021). He was a special agent with the Federal Bureau of Investigation for over 20 years and began his federal service in 1994 as an officer in the United States Marine Corps.
Related Events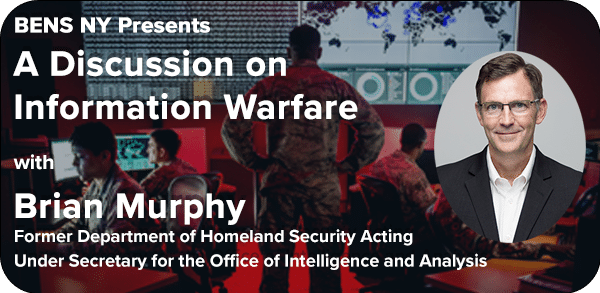 MEMBERS ONLY – Lunch with General Ray
Members only introductory luncheon with new BENS President and CEO, General Timothy M. Ray, USAF (Ret.)
Discussion w/Vice Admiral Kevin Lunday
Please join BENS for a luncheon conversation with Vice Adm. Kevin E. Lunday, US Coast Guard Atlantic Area Commander. We will discuss the Coast Guard's strategic priorities and how they play out daily in the Atlantic Area, which oversees the transit of 58% of imports and 82% of total US maritime commerce through its ports. Vice Adm. Lunday is responsible for directing Coast Guard forces and operations across all mission areas within a geographic region spanning from the Rocky Mountains to…