Virtual discussion w/ Dr. Parag Khanna, author of Move: The Forces Uprooting Us
October 26, 2021 @ 11:00 am - 12:00 pm EDT
October 26, 2021
@
11:00 am
–
12:00 pm
EDT
Join us for a conversation with Dr. Parag Khanna, author of Move: The Forces Uprooting Us. Move looks at the trends influencing the future of human mobility, and how forces like demographics and climate change are reshaping the American dream. Dr. Khanna will discuss how the coronavirus pandemic, climate change, aging populations, political turmoil, and economic disruptions will affect human migration. Dr. Parag Khanna is the founder and managing partner of FutureMap, a global strategic advisory firm that works with far-sighted governments and companies. FutureMap's proprietary Climate Alpha software produces suitability forecasts for America's 3,000 counties and a growing number of countries. Khanna is the internationally bestselling author of seven books including Connectography and The Future is Asian. He deployed to Iraq and Afghanistan as a senior advisor to US Special Operations Forces, has advised the US National Intelligence Council's Global Trends program, and been a fellow at Brookings and New America. Parag holds a PhD from the London School of Economics and Bachelor's and Master's degrees from the School of Foreign Service at Georgetown University.
Related Events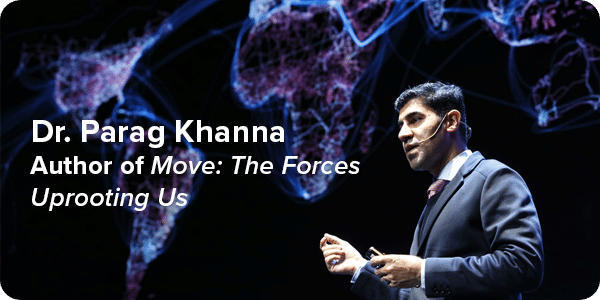 Luncheon discussion of the southern border with Todd Bensman
Luncheon discussion on the US Southern Border and America's Covert Border War w/Todd Bensman, author of the new book "America's Covert Border War: The Untold Story of the Nation's Battle to Prevent Jihadist Infiltration"
BENS 2023 Look Ahead w/Tom Cosentino
Please join BENS for a luncheon conversation with BENS' Chief Operating Officer, Brigadier General Tom Cosentino, USA (Ret.), at the Union League Club on Thursday, December 1st. Tom will provide a current activities update and look ahead to BENS priorities for 2023. He looks forward to a wide-ranging discussion on topics such as forging the Future Industrial Network and developing the national security workforce, as well as hearing directly from you.