Competitiveness Council hosts Keith Krach
July 19, 2021 @ 3:00 pm - 4:00 pm EDT
July 19, 2021
@
3:00 pm
–
4:00 pm
EDT
The BENS Competitiveness Council presents the latest in our Speaker Series – a discussion with Keith Krach, former Under Secretary of State for Economic Growth, Energy and the Environment.
Mr. Krach was the Nation's preeminent economic diplomat through January of this year, and in his service, rallied the alliance of democracies that successfully tempered Huawei's expansion of 5G. Prior to Mr. Krach's initiative, now known as Clean Network, the Chinese state-backed telecommunications company had contracts to build 5G infrastructure in 91 countries – potentially exposing many of the world's citizens to Chinese state surveillance. Now, through the efforts of Mr. Krach, his team, and the dozens of allied countries and telecom corporations that partnered to form Clean Network, Huawei's momentum has been stifled down to only about a dozen nations.
Mr. Krach, who also had a successful four-decade private sector career in engineering, technology, and business-to-business commerce – last serving as Chairman, CEO, and President of DocuSign before his appointment to State – will discuss the success of Clean Network and offer further insights on other steps the U.S. should take to maintain the Nation's economic growth and security in this era of Great Power Competition.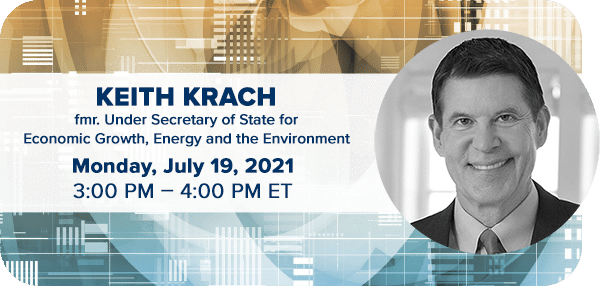 Discussion w/Vice Admiral Kevin Lunday
Please join BENS for a luncheon conversation with Vice Adm. Kevin E. Lunday, US Coast Guard Atlantic Area Commander. We will discuss the Coast Guard's strategic priorities and how they play out daily in the Atlantic Area, which oversees the transit of 58% of imports and 82% of total US maritime commerce through its ports. Vice Adm. Lunday is responsible for directing Coast Guard forces and operations across all mission areas within a geographic region spanning from the Rocky Mountains to…
Lunch w/Hamlet Yousef – San Antonio
Luncheon discussion on Iran with Iranian American and former national security official Hamlet Yousef
Tampa Fall BENS Dining Out
Please join us for our first BENS SE Tampa Fall BENS Dining Out (BDO) for an evening of great food and fellowship at The Tampa Club (101 E Kennedy Blvd, #4200, Tampa, FL 33602). You and your spouse/significant other are cordially invited to this exciting event! Since space is limited, please RSVP as soon as possible. If you have any questions or issues, please let me know. We all look forward to seeing you and your spouse/significant other on October…