Chinese Intelligence Threats and American Business
June 8, 2022 @ 11:00 am - 12:00 pm EDT
June 8, 2022
@
11:00 am
–
12:00 pm
EDT
FBI Counter-Intelligence Division Acting Assistant Director Bradley Benavides joined BENS on June 8 for a virtual discussion of Chinese Intelligence Threats and American business.
Benavides emphasized that the People's Republic of China under President Xi Jinping has 3 main concerns: Making the Chinese Communist Party (CCP) the vanguard of the Chinese people, sustaining growth, and strengthening the military to fight and win wars. To achieve these objectives, China is aggressively pursuing a wide range of programs that undermine U.S. security, technology, and economic competitiveness, from bringing Taiwan under Beijing's control to stealing intellectual property on genetically modified corn kernels to becoming dominant in quantum computing.
The U.S. response to these objectives has taken a siloed approach, especially in relation to Taiwanese independence, and Benavides' top takeaway is that these expansive threats should be viewed holistically.
In the face of these threats, U.S. companies doing business in China must conduct due diligence before entering the market. It has become standard practice in China for joint ventures to coercively take technology, and China's intelligence collection has exploded into non-traditional sources including social media and even grantmaking processes for academic research. The FBI is working with American companies to defend against these threats by modernizing employee onboarding, joint venture policies, and more. There is no separation between academia, business, judicial and military sectors in China—all are compelled to serve the CCP's vision.
Of particular concern are efforts to codify legal obligations of U.S. companies to comply with China's cybersecurity and national security laws. This will compel American businesses to act against U.S. interests, Benavides said.
China's repression of domestic dissent and its attacks on democratic norms are existential threats to destabilize western civilization, Benavides stressed. The FBI has a mission to protect four cornerstones of our society from attack by any nation-state actor: Fundamental Human Rights, Economic Security, Democratic Norms, and the Rule of Law. In order to protect these cornerstones, it is essential to treat these threats expansively and holistically, rather than compartmentalizing them, Benavides explained.
For more about China's coercive practices, U.S. counter-intelligence efforts, and the role of private businesses in protecting America's interests, see the FBI video, Made in Beijing: The Plan for Global Market Domination.
The challenges for U.S. companies doing business in China continues to be an important area of concern for BENS members. For more information, see the BENS primer: China and the Great Power Competition: How to Secure Your Business and Our Nation, and watch for upcoming discussions at the Events calendar.
Related Events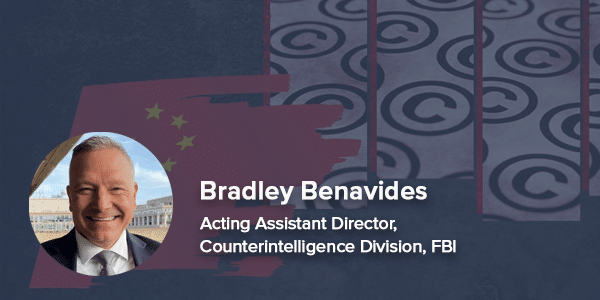 Atlanta FBI Visit w/SAC Keri Farley
Join us for a small Southeast regional trip to visit our friends at the Atlanta FBI. We are honored and excited for the FBI team to host us and for the new FBI Special Agent in Charge (SAC), SAC Keri Farley to speak with our group on Wednesday, March 29, 2023 from 11:30 am – 1:30 pm at the Atlanta FBI Headquarters. SAC Farley will discuss an overall threat landscape for the FBI and the Atlanta area. SAC Farley joined…
Discussion with Lt. Gen. David Bellon, USMC
Please join BENS for a luncheon conversation with Lt. Gen. David Bellon, Commander, Marine Forces Reserve and Marine Forces South, on Thursday, March 30th. We will discuss the U.S. Marine Corps' dramatic modernization under the Commandant's Force Design 2030. As part of Force Design, Gen. David H. Berger, Commandant of the Marine Corps, called for sweeping changes "to meet the principal challenges facing the institution: effectively playing our role as the nation's naval expeditionary force-in-readiness, while simultaneously modernizing." Lt. Gen.…
Dinner w/Major General Ed Thomas
BENS Chicago members will host Major General Ed Thomas, Commander, USAF Recruiting Services, for a plated dinner at the Chicago Club. The Discussion objective is USAF talent recruitment and retention. For attendance and registration information, please contact Natalie Callone at NCallone@bens.org.