Visit to the GA National Guard HQ
October 18 @ 10:00 am - 2:00 pm EDT
October 18
@
10:00 am
–
2:00 pm
America/Atlanta
BENS SE has been given a unique opportunity that I hope you will be able to join us for. On Wednesday, October 18th from 10:00 am – 12:00 pm, at the Clay National Guard Center (1000 Halsey Ave., Marietta, GA 30060), BENS SE will tour the facility, speak with the Georgia National Guard (GANG) leadership and have a discussion with MG Tom Carden, the GA Adjutant General (TAG). The GANG leadership will discuss the various missions currently being executed by the GANG, their response requirements, recruiting, as well as a general overview of the GANG and their mission. This promises to be yet another great event that you don't want to miss out on!
The Georgia National Guard is a diverse, inclusive, and equal-opportunity employer; committed to providing equal employment opportunities for all employees and applicants for employment in the Georgia National Guard, regardless of age, color, disability, sex (including pregnancy, gender identity or expression, and sexual orientation), genetic information, national origin (ancestry), race, religion, and reprisal. All employees and applicants will have the freedom to compete for employment and advancement in their careers in an equitable work and hiring environment.
Major General Carden was appointed by Governor Kemp in January of 2019 as the 43rd Adjutant General of the Georgia Department of Defense. He is responsible for directing, coordinating, organizing and stationing the Army and Air National Guards of the State of Georgia, the Georgia State Defense Force,  and federal and state civilians, ensuring their readiness to perform state and national missions. See his full bio HERE.
Spaces are limited and all RSVPs will be treated on a first-come, first-served basis. Please register below.
Related Events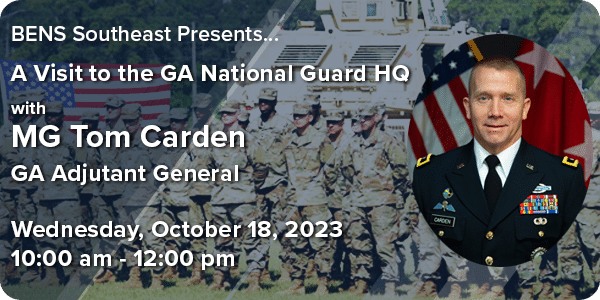 SE Holiday Social
Please join us for a festive evening with friends, fellowship, great food, and an open bar. Please bring your significant other and a prospective member. Space is limited, so please RSVP as soon as possible to reserve your spot! We are pleased to offer this event at no cost thanks to the generosity of a few BENS Members.
Visit to Lockheed Martin Aero Plant
Visit to Lockheed Martin Aero Plant to tour the production line and receive briefings on the F-35. For additional information, please contact Matthew Elias (MElias@bens.org).