Visit to the Shepherd Center
June 27 @ 9:00 am - 11:30 am EDT
June 27
@
9:00 am
–
11:30 am
America/Atlanta
Please join us for a unique opportunity to visit the Shepherd Center in Atlanta. We will be introduced to the services offered at the Shepherd Center, get a brief tour of the facility, as well as discuss the SHARE Military Initiative. All RSVPs will be treated on a first-come, first-served basis.
Shepherd Center, located in Atlanta, Georgia, is a private, not-for-profit hospital specializing in medical treatment, research, and rehabilitation for people with spinal cord injury, brain injury, multiple sclerosis, spine and chronic pain, and other neuromuscular conditions. Founded in 1975, Shepherd Center is ranked by U.S. News & World Report among the top 10 rehabilitation hospitals in the nation. Their patient rehabilitation programs are designed to offer an intense focus on your recovery and lifelong wellness.
Additionally, we will also discuss the SHARE Military Initiative which is a dedicated treatment team that focuses on veterans, first responders as well as some active-duty military. In addition to treatment for TBI, SHARE also offers services for PTSD, individual, family and group therapy, client/family education, cognitive rehabilitation and much more.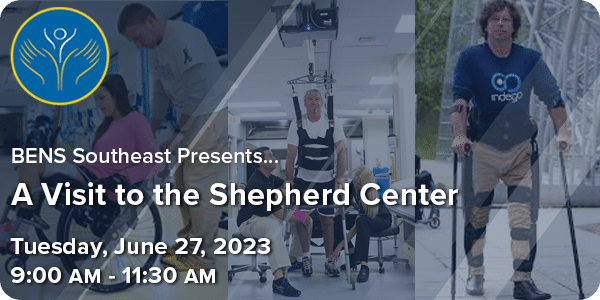 Discussion on FY24 Defense Budget with Seamus P. Daniels, CSIS
Please join BENS for a conversation on Wednesday, June 14th as we host Seamus P. Daniels, Fellow, Defense Budget Analysis at the Center for Strategic and International Security. Seamus will discuss his perspective on the FY 2024 defense budget, DoD's strategic priorities in the FY24 request, and long-term challenges and opportunities in the defense budget. Seamus P. Daniels is a fellow for Defense Budget Analysis in the International Security Program at the Center for Strategic and International Studies (CSIS), where…
Eisenhower Award Dinner
Please join us in Washington for our annual Eisenhower Award Dinner honoring General Mark A. Milley, USA, Chairman of the Joint Chiefs of Staff. 6:30 pm Cocktails | 7:30 pm Dinner Black Tie Preferred
Discussion w/Jamie Kraut
Join us for an important conversation with Ms. Jamie Kraut, Acting Deputy Assistant Secretary for the Middle East and Asia in the Office of Terrorist Financing and Financial Crimes (TFFC) at the U.S. Department of the Treasury. Jamie is responsible for the department's policies and strategies to combat illicit financing threats in both regions. Jamie served for four years as the Middle East Director in TFFC and for one year served on detail to the National Security Council in the…