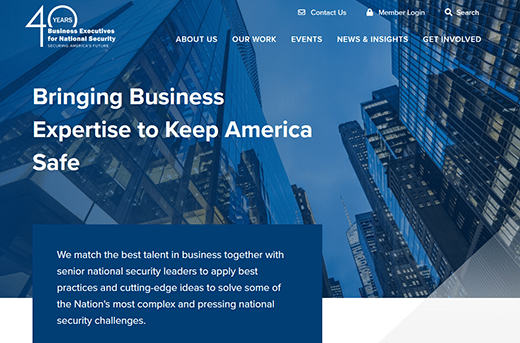 May 22, 2022 | BENS Executive Brief


We are excited to announce the launch of our new BENS website! The updated bens.org provides more dynamic and visually appealing content and timely showcasing of the great work being done organization-wide. You will note the introduction of a new blog for expert commentary, a dedicated home for our expanding podcasts, interactive features for exploring BENS publications, expanded content for the government partner audience, and much more. Please enjoy exploring the new bens.org and visit regularly!
THE WEEK'S BEST READS
Nations Aim to Secure Supply Chains by Turning Offshoring Into 'Friend-Shoring'
Digital Transformation Is a Cultural Problem,
Not a Technological One
Could Ukraine Offer a Template for Better
US-Gulf Security Relations?
MEMBER HONORED

Bruce Mosler Honored by The Commercial Observer's 2022 Power 100 Ranking in NY Real Estate

BENS Chairman Emeritus Bruce Mosler, Chairman of Global Brokerage & the Veterans Initiative Program at Cushman & Wakefield, Inc., has been recognized as one of the 100 most important people in commercial real estate by The Commercial Observer in its annual rankings for 2022.
FEATURED EVENT

78th Anniversary of D-Day Recognition

BENS members have been invited by the New York Historical Society and the American Battle Monuments Commission to join them on June 4th, for a production of The Eyes of the World: From D-Day to VD Day, at The John F. Kennedy Center for the Performing Arts Opera House. This multimedia musical event brings the final 11 months of the War in Europe to life, through the letters, photographs and reportage of Ernest Hemingway, Robert Capa, Vogue-model-turned-photojournalist Lee Miller, and a young American Intelligence Officer. The production features a 58-piece orchestra, top Broadway stars (Hamilton, Mean Girls, Dear Evan Hansen, Aladdin) and music from the era, conducted by Hamilton's Ian Weinberger. The show will be followed by a reception in the Hall of Nations. To purchase tickets online, via the Kennedy Center, please use: https://www.kennedy-center.org/whats-on/explore-by-genre/theater/2021-2022/eyes-of-the-world-r/.
China Insists Party Elites Shed Overseas Assets, Eyeing Western Sanctions on Russia

READ MORE >
US Readying an Arms-Aid Package to
Wean India Away from Russian Weapons

READ MORE >
Hydropower is 53% of the Renewable
Energy Supply in the West. Drought is
Slowing Down Production.

READ MORE >
Coast Guard Academy Graduates
its First Cyber Majors

READ MORE >
Pentagon Tech Chief Wants an 'All in One' Sensor
MEMBER SUBMITTED
Opinions expressed in the Executive Brief are those of the authors and do not represent policy positions of BENS.

FBI Releases Movie on China's Plan
to Steal US Technology

READ MORE >

Submitted by Kellen Guida
Iran: Time to Avoid Another Failed US Policy

READ MORE >

Member-authored by Raphael Benaroya
RETROSPECTIVE

Looking Back at BENS Throughout
the Years

We are celebrating BENS' 40th anniversary throughout 2022 with a Retrospective series. Take a look back at BENS events, projects, and artifacts over the years!

This week: the 2012 BENS Staff Ride at Gettysburg.

HAVE AN ARTICLE FOR EXECUTIVE BRIEF?
Contact Hannah Beitler, Policy Associate, to submit content for consideration in this newsletter:
HBeitler@bens.org
UPCOMING EVENTS
May 25 | Texas
BENS TX Dallas luncheon discussion on hypersonic weapons with LTG Neil Thurgood, USA, Director of Hypersonics, Directed Energy, Space, and Rapid Acquisition of the Office of the Assistant Secretary of the Army for Acquisition, Logistics, and Technology.

REGISTER >
June 1 | Southeast
BENS Southeast hosts Christopher Kolenda at the Buckhead Club for a luncheon discussion "Learning from the Afghanistan Failure: 3 Strategies to Help your Business Succeed."

REGISTER >
June 2 | Washington, DC
Join BENS members and guests on Thursday, June 2, as we host Duyane Norman for a luncheon discussion on the need for disruption in the Intelligence Community.

REGISTER >
June 7 | National
BENS hosts a virtual discussion with U.S. Ambassador to the Hashemite Kingdom of Jordan, Henry T. Wooster. Join us as Ambassador Wooster discusses the geostrategic importance of Jordan to the United States and the opportunities it holds for the future.

REGISTER >
June 8 | National
BENS hosts a virtual discussion on the risks of IP theft from China, with Bradley Benavides, Acting Assistant Director, Counterintelligence Division, FBI.

REGISTER >
June 9 | Washington, DC
BENS DC is co-hosting a roundtable with the Department of Homeland Security Office of Intelligence and Analysis, to discuss effectively aligning business and government strategy and analyzing ways to refine and expand avenues of communication and cooperation.

REGISTER >
June 14 | New York
BENS New York hosts a luncheon discussion with Gen. Edward M. Daly, Commanding General, U.S. Army Materiel Command. Gen. Daly looks forward to talking about modernizing processes, equipment, and workforce, as well as the information technology behind data and cyber systems.

REGISTER >
June 29 | Southeast
Save the Date: BENS Southeast visit to Joint Special Operations University at MacDill AFB, Tampa, FL. Registration details coming soon.

To submit an article for consideration in an upcoming BENS Executive Brief, email Hannah Beitler.
Copyright ©2022 Business Executives for National Security
Privacy | Email Preferences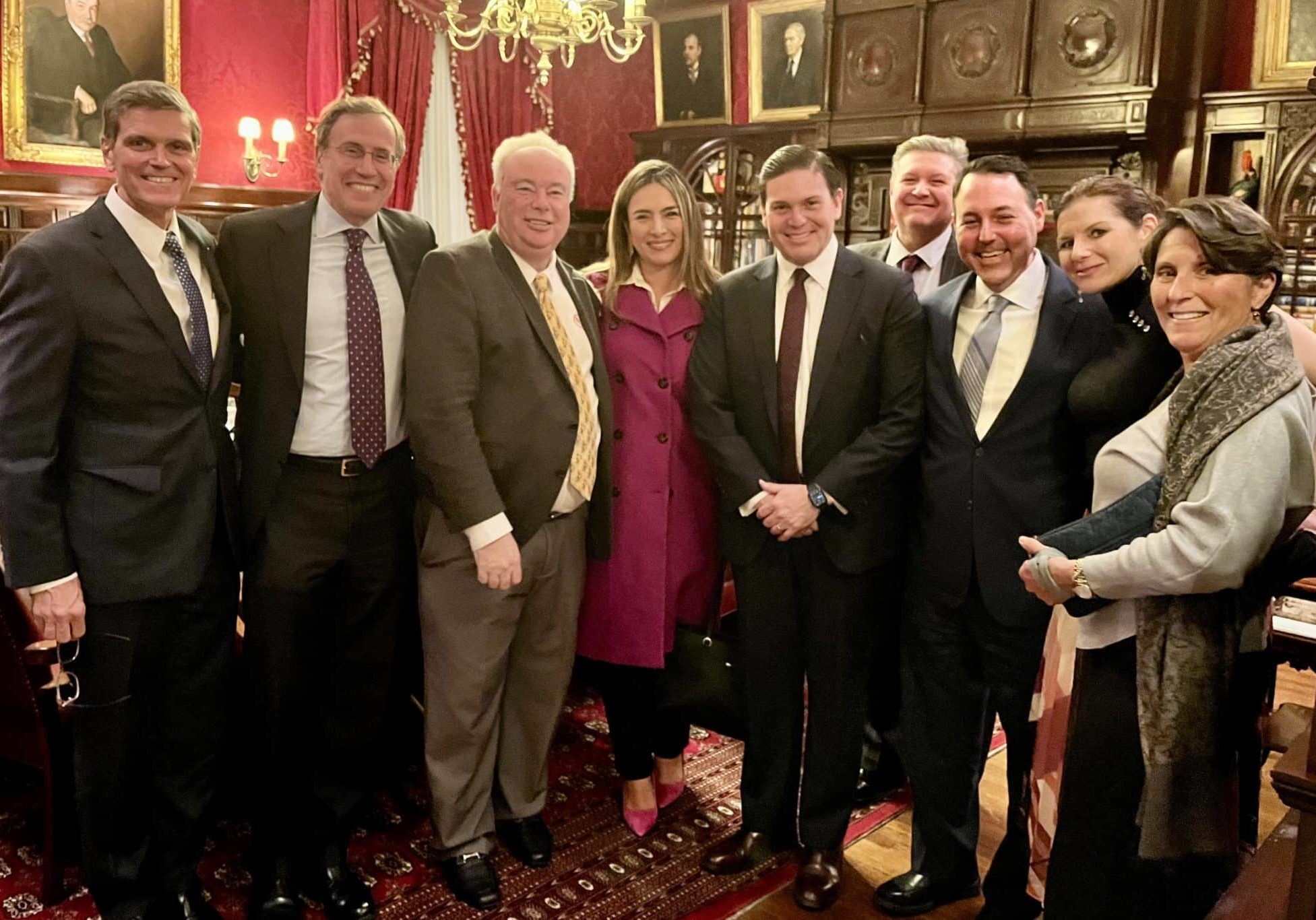 Event Recaps – March 26, 2023
A select BENS Member delegation traveled to Norfolk, Virginia as guests of US Navy's Fleet Forces Command. Our Members visited a variety of shipyards and drydocks and attended a series…
BENS Member Mark Shenkman
BENS Member Mark Shenkman, Founder and President of Shenkman Capital Management was honored with the Museum of American Finance's Lifetime Achievement Award for his outstanding career in the investment industry.
Receive BENS news and insights in your inbox.