International Relations Experts Discuss the NATO Alliance at Event Co-Hosted by the Pritzker Military Museum & Library, Business Executives for National Security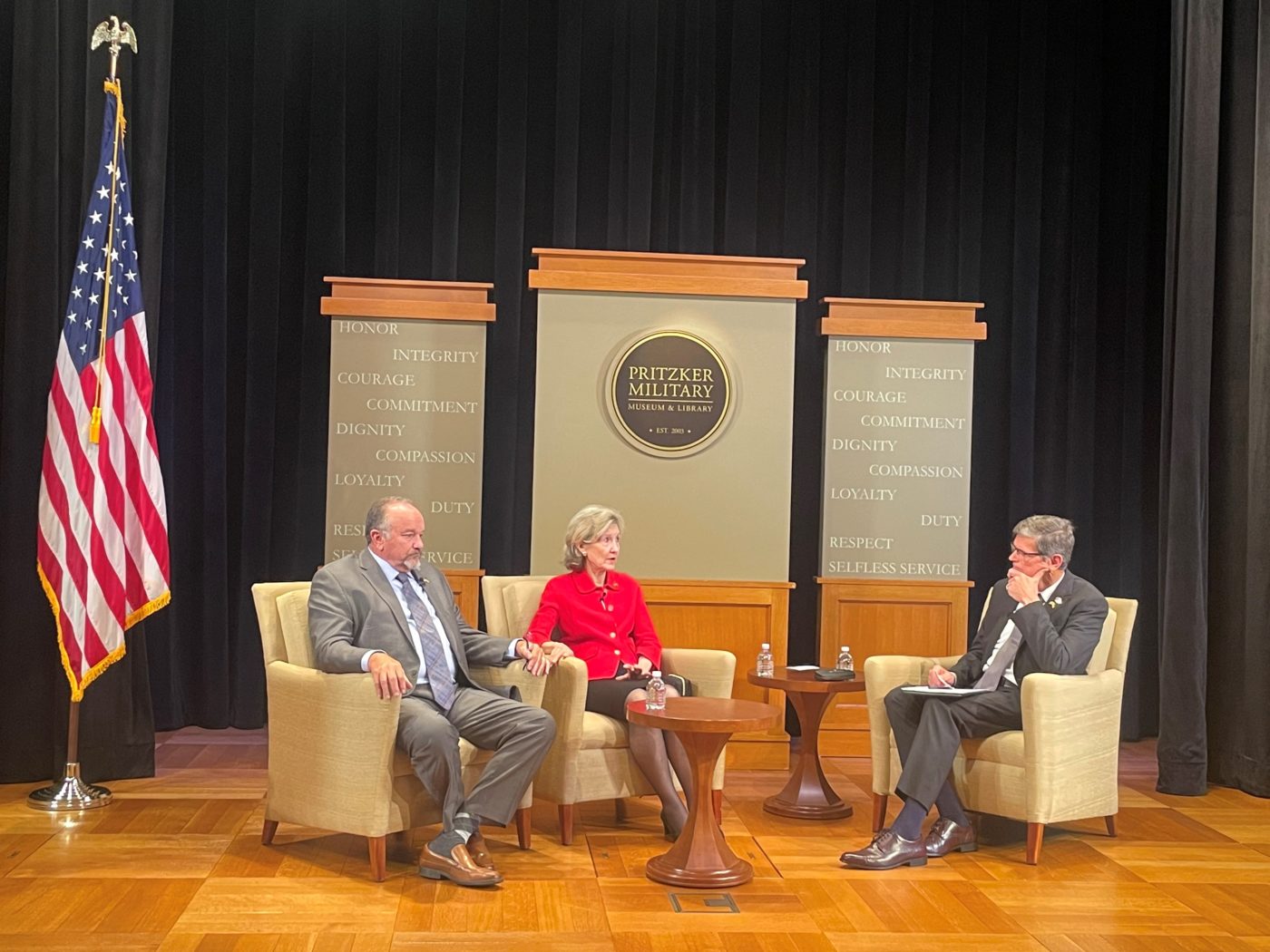 FOR IMMEDIATE RELEASE:
June 17, 2022
Contact:
Nate Thompson
(202) 296-2125
NThompson@bens.org
CHICAGO—General Philip Breedlove, USAF (ret.) and Ambassador Kay Bailey Hutchison discussed the future and relevance of the North Atlantic Treaty Organization (NATO) Wednesday night during a special event hosted at the Pritzker Military Museum & Library (PMML), in Chicago. NATO in the Wake of Russia's Invasion of Ukraine: Is the Alliance Still Relevant?, was organized by Business Executives for National Security (BENS), a nonprofit network bringing together the best talent in business with senior national security leaders to address pressing security challenges.
BENS member and PMML Founder, Colonel (IL) Jennifer N. Pritzker, IL ARNG (Retired), provided opening remarks and described the museum's mission to increase public understanding of the military's role in preserving our democracy—a cause more important now than ever, Col. Pritzker noted. She welcomed attendees for a private viewing of the museum's newest exhibit, "Life Behind the Wire: Prisoners of War." The panel was moderated by BENS President and CEO General Joseph Votel, USA (ret.).
The panelists' unique perspectives facilitated an insightful examination of the NATO alliance as it is being tested and reinvigorated during Russia's aggressive invasion of Ukraine. Ambassador Hutchison served as the U.S. Permanent Representative to NATO from 2017 until 2021. General Breedlove was the Commander of U.S. European Command and the Supreme Allied Commander Europe (SACEUR) of NATO Allied Command Operations, from May 2013 to May 2016.
On the changing role of NATO and the dynamics of conflict today, General Breedlove pointed to a contrast in geopolitics. "Today we face a world where, when we fight the lines are not discreet, the interaction is gray rather than black and white. We face an opponent now that does not follow the international rules-based order does not treat the battlefield as a place where there are morals that must be upheld. We face an enemy that is completely instable as compared to the stability of the Cold War," General Breedlove said.
Ambassador Hutchison emphasized that NATO is "the longest standing and most successful political military alliance in the history of the world. And we are growing bigger and stronger and to Putin's great regret." America must be the leader in terms of security, Ambassador Hutchison added. "It is America that will assess a risk and deter against it, the Europeans won't do that, they want us to do it," because they know that their own internal conflicts over economics will supersede security, while Americans always put security first. "We fought for our independence and we have put security first in our Constitution and in our way of life," Ambassador Hutchison said.
The dialogue considered the implications of expanding NATO with the addition of membership applications submitted by Finland and Sweden. "These are two extremely capable militaries," General Breedlove said. "They will have almost one hundred percent compatibility with NATO equipment and capability, they will be contributing exquisite capabilities on day one," he said. Ambassador Hutchison added that growing and expanding the NATO alliance has important geostrategic ramifications. "As we look to protecting our way of life, our democracies, our freedom, and our rule of law, we must look beyond our borders to show the strength of the core and bring in more partners so that we have the ability to stand up against China, Iran, North Korea and other potential future adversaries," she said.
Panelists also touched on recent reforms introduced by NATO to enhance its military readiness and command and control structure, on the dangers of allowing Russia to get away with its aggressions in the region in 2008 and 2014, and the criticality of NATO and the U.S. acting proactively to Russian threats rather than reactively for successfully executing its mission for peace and stability in Europe.
###
About BENS
Business Executives for National Security is a nationwide network of elite business leaders who are united in the belief that private-sector expertise and best practices can help the Department of Defense and other national security agencies execute their missions to keep America secure.
Founded in 1982, BENS has a long history of bringing the best talent in business together with senior national security leaders to apply best practices and cutting-edge ideas to solve some of the Nations' most complex and pressing national security challenges. Operating as a non-partisan, non-profit organization, BENS does its work at no cost to government.
About Pritzker Military Museum & Library
The Pritzker Military Museum & Library aims to increase the public's understanding of military history, military affairs, and national security by providing a forum for the study and exploration of our military – past, present, and future – with a specific focus on their stories, sacrifices, and values. With national and global reach, these spaces and events aim to share the stories of those who served and their contributions as citizen soldiers, helping citizens everywhere appreciate the relationship between the armed forces and the civilians whose freedoms they protect. A non-governmental, non-partisan organization, the Museum & Library features diverse collections, scholarly initiatives, and public programs from its flagship center in downtown Chicago to its world-class research center and park currently under construction in Somers, Wisconsin.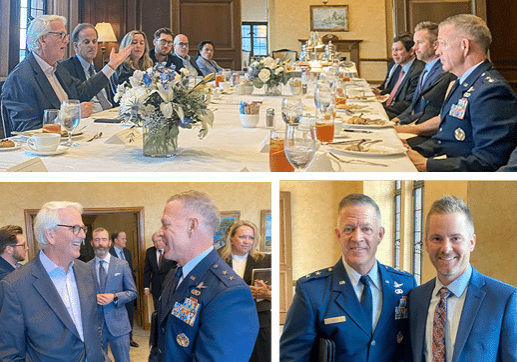 Event Recaps – September 24, 2023
BENS CEO, General Tim Ray, traveled to Atlanta to visit with the Southeast Region's BENS members. Members shared their thoughts and insights on their experiences and engagements with BENS and General…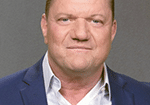 BENS Member, Chris Harris
BENS Member, Chris Harris, Vice President of Defense/Americas for SPEE3D has worked with key staff to train and supply Ukraine with metal 3D printers. The printers will be deployed near the…
Receive BENS news and insights in your inbox.