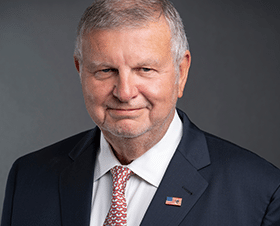 Vice Chair, President's Leadership Council
Raphael Benaroya is the Managing Director of Biltmore Capital Management, LLC., investing in US real estate and working with Sovereigns and private sector on investment strategy, capital attraction and Foreign Direct Investment in Industrial, Energy, Technology and Consumer sectors. He is also a member of the board of Innovacare Inc., a healthcare management company. He was an advisor to D.E. Shaw & Co., L.P., a private investment fund and Managing Director of Biltmore Capital Group, LLC., a financial company investing in distressed debt.
Mr. Benaroya was the founder of United Retail Group, Inc., (NASDAQ: URGI) a multi-channel fashion retailer. He led an LBO to acquire the company from The Limited, where he served as CEO of two of its companies and followed with a successful IPO (NASDAQ: URGI) and a secondary offering. He served as a Chairman, CEO and President until the company was sold to PPR, a French conglomerate owning Gucci, YSL and Botega. Prior to joining The Limited, Mr. Benaroya held executive positions with General Mills (NYSE: GIS) at their Minneapolis headquarters, following which he joined the management group of its IZOD Lacoste division that led their explosive growth.
Mr. Benaroya has been active in civic and philanthropic endeavors on local, national and international levels. He served as an advisor to the Secretary of Defense on the Defense Reform Initiative. He is a Vice Chairman of Business Executives for National Security's (BENS), member of its Executive Committee and Co-Chaired its Policy and Development Committees. He led several delegations to Israel and India to discuss defense and security issues with top government officials. Mr. Benaroya visited NATO Command and Kosovo. He visited Kashmir's Line of Control on two occasions at the invitation of India's military. He also visited Iraq and Afghanistan multiple times with the US Military, as well as Jordan and Syria on official visits. He visited top military officials of Turkey, Israel and Albania with the Commanders of U.S. European Command. He visited Cuba at their government's invitation to discuss commerce plans. He has visited Egypt multiple times to address bilateral relations and national security issues.
Mr. Benaroya was presented a Certificate of Distinction and was awarded a medal decoration by the U.S. Department of Defense. He is a recipient of the BENS Dwight D. Eisenhower Award and a U.S. Congressional Certificate of Recognition. Mr. Benaroya delivered a keynote presentation to the Commanders-in-Chief of the US Navy and Marine Corps at the Naval Postgraduate School. He was an advisor at a Naval Readiness Conference prior to the Iraq War, and participated in the US Naval Supply Board of Directors meeting on Naval Transformation.
As an active supporter of education, he was invited to speak by several graduate schools of business. He also serves on several other civic and humanitarian boards in the United States and abroad. Mr. Benaroya has often been recognized for his civic activities. He is a recipient of the Children's Hope (India) Lotus & Make a Difference Awards, The Boys Town Jerusalem Gates of Jerusalem and Guardian of Israel Awards and Humanitarian Concern Award of Sharee Tzedak Hospital. He was a three-time mentor in the "Conference of Ethics in America" at the United States Military Academy at West Point and participated twice in a National Security Strategy Exercise of the National Defense University at Fort McNair.
Mr. Benaroya is a graduate of the University of Minnesota, where he earned an MBA in the School of Business and a BSc Degree (with Distinction) in Computer Science. He attended executive education programs at Harvard Business School.
Mr. Benaroya resides in New Jersey; he and his wife Linda are parents of four children and have seven grandchildren.