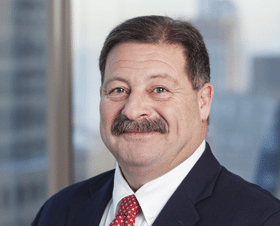 Head of General Services, Fiserv Inc.
As Head of General Services at Fiserv Inc., Tom Higgins is responsible for Global Real Estate, Global Sourcing, Cyber Security, Physical Security and Investigations, Enterprise Business Continuity, Crisis Management, and Aviation. He is the driving force behind the company's Military and Veteran's Affairs function which focuses on the employment of military members, their spouses and veterans who have sacrificed much to serve their country.
Tom served as Executive Vice President and Chief Administrative Officer of First Data Corporation prior to its merger with Fiserv in 2019. Prior to joining First Data, he served on the Executive Committee and was the Head of Operational Control at JPMorgan Chase & Co. He also led all of the JPMC's military and veteran's initiatives. He retired in 2010 as a member of the Senior Executive Service with the U.S. Government. His career spanned 24 years in the National Security and Foreign policy areas.
Tom is a graduate of the State University of New York-Maritime College. Tom attended the U.S. Naval War College and completed the Program on Leadership for Senior Executives at the JFK School of Government at Harvard University. He is a U.S. Navy veteran and serves on a number of charitable boards to include the CIA Officers Memorial Foundation, OSS Society, Business Executives for National Security, the Intrepid Sea, Air and Space Museum, USO of Greater New York, Meridian International Center, Wilson Center, and the Tug McGraw Foundation.