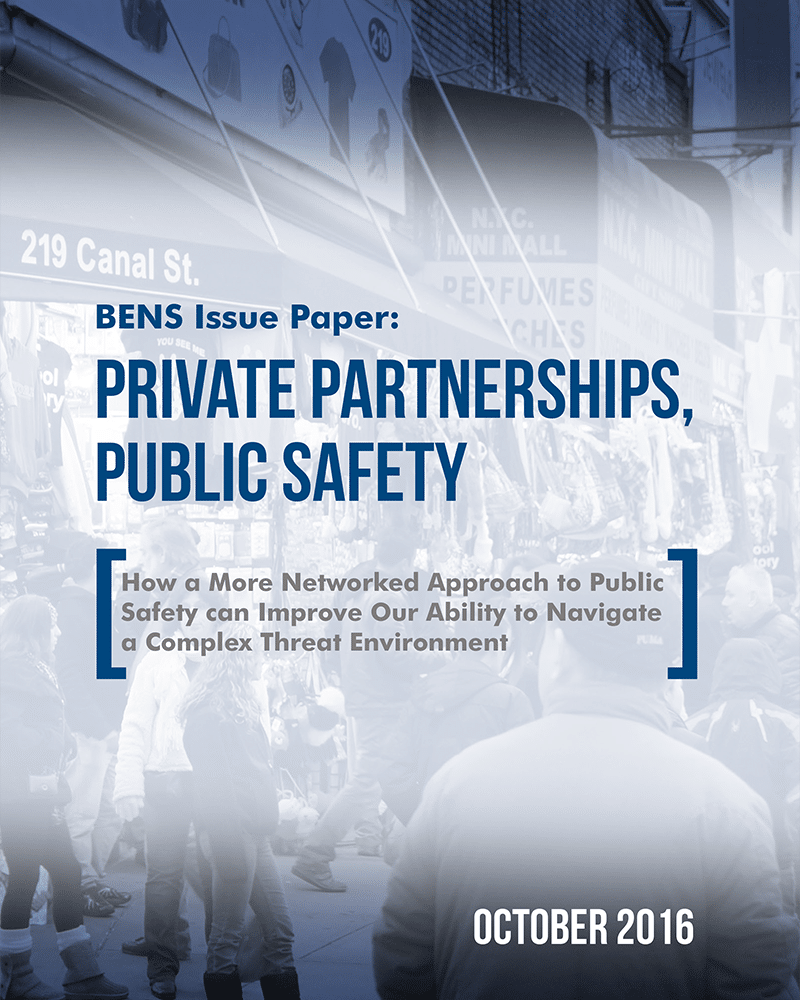 FOR IMMEDIATE RELEASE
October 20, 2016
CONTACT:
James Whitaker
202-481-1148
jwhitaker@bens.org
WASHINGTON – Business Executives for National Security (BENS) have released Private Partnerships, Public Safety, a report examining the current domestic security environment and employing the concept of horizontal integration as a model for enhancing U.S. public safety.
Horizontally integrated and networked business processes utilized in the private sector, the paper argues, can be applied to domestic security challenges such as the prevention and response of terrorist attacks. The paper purports a networked approach that particularly incorporates federal and state fusion centers and state homeland security officials along with the private sector would enable rapid and flexible responses to perceived threats in the community.
"We must shift how we think about preventing terrorist attacks," said Dawn Scalici, a former National Intelligence Manager within the Office of the Director of National Intelligence and principal on BENS' report. "Vertical integration of federal, state, and local intelligence and law enforcement agencies over the last ten years have made us better at preventing large scale attacks, but today's smaller homegrown threats now require us to also horizontally integrate the private sector and community stakeholders into our security matrix."
Terrorist attacks in the Western Hemisphere are increasingly carried out by individual or small groups of citizens inspired by propaganda from terrorist groups such as the Islamic State, commonly referred to as ISIS or ISIL. Recent attacks in Orlando and New York are representative of the trend.
The release of the report coincided with a forum in Washington, DC featuring, among other intelligence and domestic security officials, the Director of National Intelligence, James Clapper. Clapper focused his remarks on the role of the Intelligence Community and how integration of the Community has evolved over the fifteen years since the attacks in the U.S. on September 11, 2001.
Retired Air Force General Norton Schwartz speaking at the event, cosponsored by BENS and the Intelligence and National Security Alliance, reinforced the report's major theme. "Strong partnerships can provide greater visibility into each partner's information requirements, improve the ability of stakeholders to coordinate their activities and enable rapid, locally-directed responses to perceived threats."
###
Business Executives for National Security (BENS) is a nonpartisan, nonprofit comprised of business leaders throughout the nation who volunteer their time and expertise to help address the national security community's most pressing challenges. For more information, please visit: www.BENS.org.
Hondo Geurts on the Defense & Aerospace Daily Podcast
BENS Distinguished Fellow James "Hondo" Geurts visited the Defense & Aerospace Daily Podcast to discuss his op-ed co-authored with General Joseph Votel: Forging the Industrial Network the Nation Needs. Listen…
Happy Independence Day from BENS
On this most American of holidays, we celebrate the birth of the greatest country on earth. The Declaration of Independence was an audacious statement in 1776, issued and adopted by…
Receive BENS news and insights in your inbox.