US Secretary of Defense Ash Carter and Philanthropist Robert Belfer Honored with BENS Eisenhower Award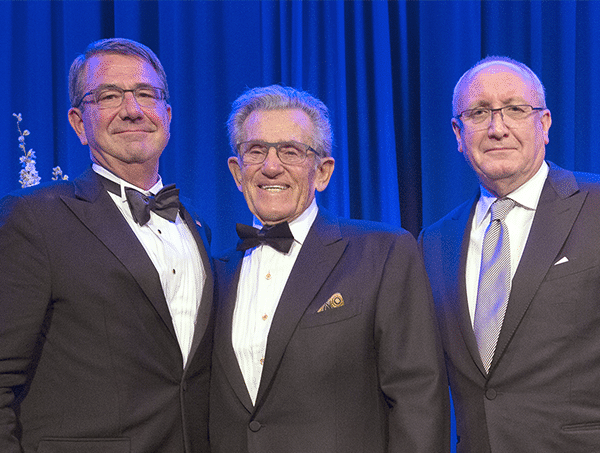 FOR IMMEDIATE RELEASE
April 28, 2016
CONTACT:
James Whitaker
202-481-1148
jwhitaker@bens.org
WASHINGTON – Business Executives for National Security (BENS) on Thursday night presented their 2016 Eisenhower Award to U.S. Secretary of Defense Ash Carter and longtime philanthropist and business executive Robert Belfer. Carter and Belfer join a distinguished group of past award recipients that include previous Secretaries of Defense Leon Panetta and Robert Gates, as well as industry leaders such as Under Armour founder and CEO Kevin Plank.
The Eisenhower Award honors outstanding public servants and private citizens whose contributions reflect President Dwight Eisenhower's definition of security as, "…the total product of our economic, intellectual, moral and military strength." Belfer, who endowed the Center for Science and International Affairs at Harvard's Kennedy School of Government, was recognized for his contributions in preparing generations of leaders that have striven for global security and peace; Carter, who once served as the director of the now named Belfer Center, among them.
Carter, who was sworn in as Secretary in February 2015, was recognized for his long career in public service, spanning over two decades. In that time, Carter served in various leadership capacities within the Pentagon including Under Secretary of Defense for Acquisition, Technology, and Logistics and Deputy Secretary. Speaking to over 550 industry and national security leaders at a dinner hosted for the award recipients, Bruce Mosler, Chairman of Global Brokerage at the real estate firm Cushman & Wakefield as well as Chairman of BENS, noted that Carter's career, "exemplifies patriotism and service."
Keynoting the dinner, Carter focused his remarks on the current challenges facing the United States, as well as his efforts to ensure that the Department of Defense continues to innovate for the future, and think outside of the "five-sided box" to be competitive in a competitive world.
"I'm honored to be among the many distinguished Americans who have received the Eisenhower Award," Belfer noted before praising Carter. "It is particularly special to share this honor with the Secretary as there are few leaders over the last several decades that have been more dedicated to the success and safety of our men and women in uniform."
The award dinner also recognized Petty Officer First Class Wayne Papalski for his heroism abroad and in the U.S. The Navy's only board-certified Critical Care Flight Paramedic, Papalski has served multiple tours overseas and has earned the military's Air Medal and the Navy and Marine Corps Medal for his lifesaving rescue operations while at Naval Air Station Whidbey Island in Washington. The Navy and Marine Corps Medal is the highest non-combat award for valor and was bestowed for his actions on November 15, 2014 when he rescued an injured skier on Mount Shuksan in the face of subzero temperatures and a deluge of freezing rain.
BENS President and CEO, retired Air Force General Norton Schwartz, capsulized the evening in his remarks. "The contributions to America's security made by our honorees tonight – both as individuals and long-time partners – truly embody the spirit and vision of President Eisenhower's farewell address and its call for each of us, as citizens, soldiers and public servants, to become involved so that liberty and security can prosper together."
###
BENS is a nonpartisan, nonprofit comprised of over 400 business leaders who volunteer their time and expertise to assist the national security community. Past recipients of their Eisenhower Award include civil servants such as Secretaries of State Michael Pompeo and Hillary Rodham Clinton; military leaders such as former Chairman of the Joint Chiefs of Staff, General Joseph Dunford; and business leaders such as Cisco CEO Chuck Robbins and Amazon.com Founder Jeff Bezos.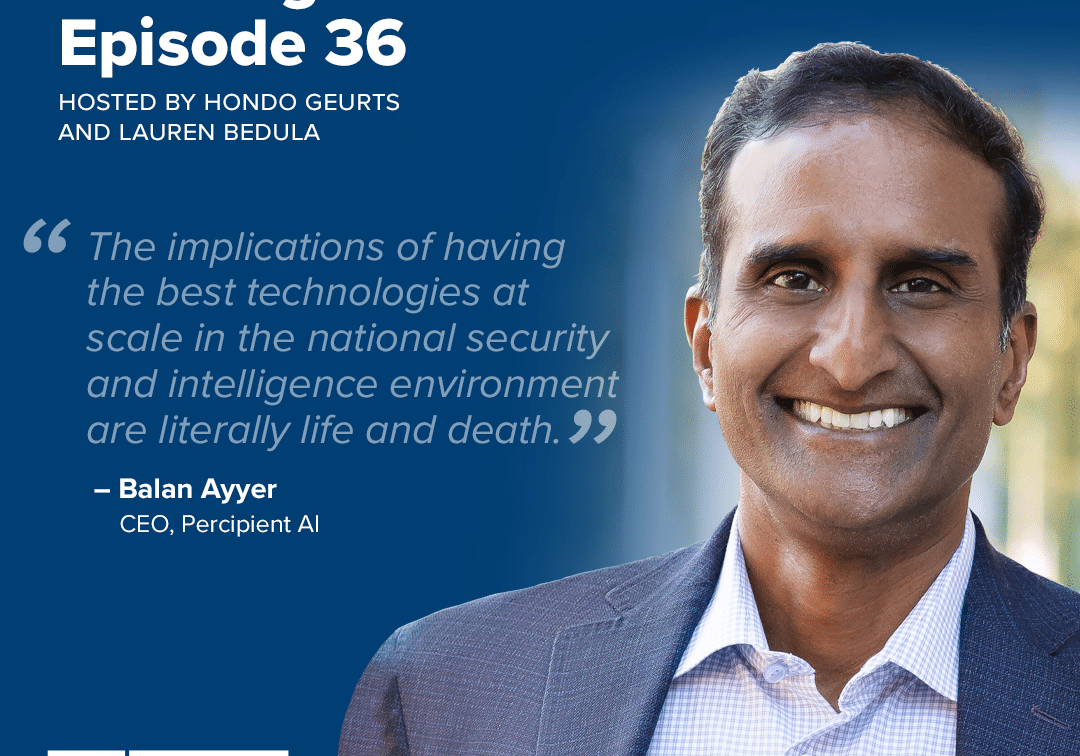 Building the Base Episode 36: Balan Ayyar
In episode one of Building the Base, hosts Lauren Bedula and Hondo Geurts chat with Balan Ayyar, retired US Air Force General Officer and now CEO of Percipient AI, a…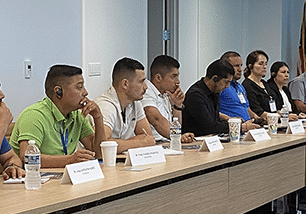 Event Recaps – September 18, 2023
BENS hosted a panel for the State Department's International Visitor Leadership Program (IVLP) to discuss communication and cooperation between the private sector and federal law enforcement. In attendance were law…
Receive BENS news and insights in your inbox.