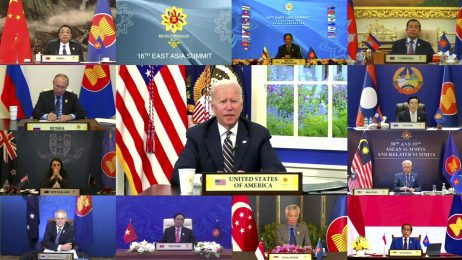 On March 29, Singapore Prime Minister Lee Hsien Loong visited the Biden White House for the first time as the war in Ukraine raged on. Their conversations focused on Russia's invasion of Ukraine and Indo-Pacific security. In a joint press release, U.S. President Joe Biden claimed the partnership between the United States and Singapore was "as close and as strong as it's ever been," while Lee noted, "Singapore deeply appreciates America's commitment to engage Southeast Asia, and especially Singapore, despite the ongoing crisis in Ukraine." Was Lee's formulation implicitly questioning the credibility of Biden's account of U.S.-ASEAN relations?
Hondo Geurts on the Defense & Aerospace Daily Podcast
BENS Distinguished Fellow James "Hondo" Geurts visited the Defense & Aerospace Daily Podcast to discuss his op-ed co-authored with General Joseph Votel: Forging the Industrial Network the Nation Needs. Listen…
Happy Independence Day from BENS
On this most American of holidays, we celebrate the birth of the greatest country on earth. The Declaration of Independence was an audacious statement in 1776, issued and adopted by…
Receive BENS news and insights in your inbox.